Parallelable Modular Inverter 184804
Features
Characteristics
Model Dimensions
Installation
Wiring Diagram
Operation/Testing/Maintenance
Product Tags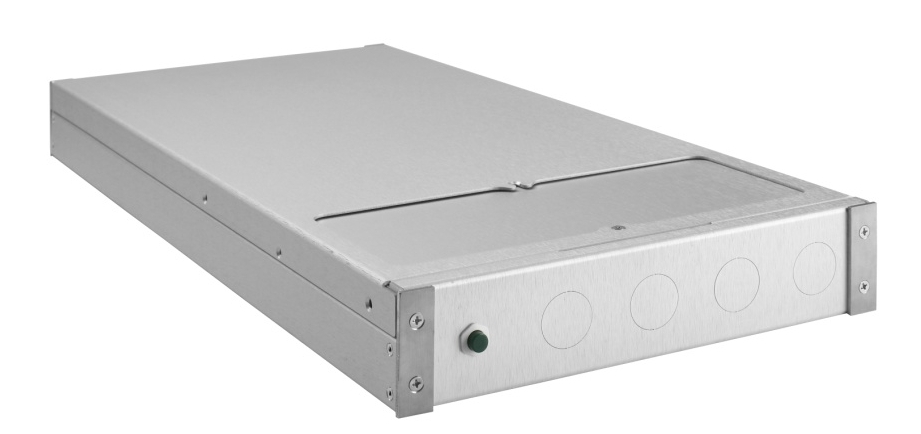 1. Pure sinusoidal AC output.
2. Patented APD technology - Auto Preset Dimming (0-10V) the connected load in emergency.
3. Modular design, flexibly parallelable combination from 1 to 5 modules, Max. emergency output power up to 2000W.
4. Output voltage auto setting according to different input voltages.
5. Auto Test.
6. Extremely slim aluminum housing, light weight of 11.5Kgs (25.4Lbs).
7. Suitable for indoor, dry and damp applications.
---
Previous:
Mini emergency inverter 184601/184602
---
Type
18480

4

Lamp type

LED, fluorescent or incandescent bulbs, tubes and lighting fixtures

Rated voltage
120-277VAC 50/60Hz
Rated current

1A@120V;

0.

55

A

@277V

Rated power

65

W

Load power factor

0.9 leading to lagging

Output voltage
120-277VAC 50/60Hz

Output power

400W

Max. power of 0-10V dimming load
2000W@120V; 4000W@277V
Battery
LiFePO4
Charging time
24 Hours
Discharge time
90 Minutes
Charging current
1

.44

A
Life time
5 years
Charging cycles
>

10

00
Operation temperature

0-50

℃ (32°F-122°F)
Efficiency

90

%
Abnormal protection
O

ver voltage, over current,

Inrush current limiting

,

over temperature, short circuit, open circuit

Wire

10-18AWG/

0.75-6.0

mm2
EMC/FCC/IC standard
EN 55015, EN 61547, EN 61000-3-2, EN 61000-3-3, FCC part 15, ICES-005
Safety standard
EN 61347-1

,

EN 61347-2-7,UL924

,

CSA C.22.2 No. 141
Meas. mm [inch]

L

605 [23.82]

x W

280 [11.02] 

x H

60 [2.36] Mounting

c

enter: 534 [21.02]
184804
Item No.

L mm [inch]

M mm [inch]

W mm [inch]

H mm [inch]

184804

605 [23.82]

534

 [

2

1.02]

280 [11.02]

60 [2.36]
Dimension unit: mm [inch]
Tolerance: +/-1 [0.04]
SURFACE MOUNTING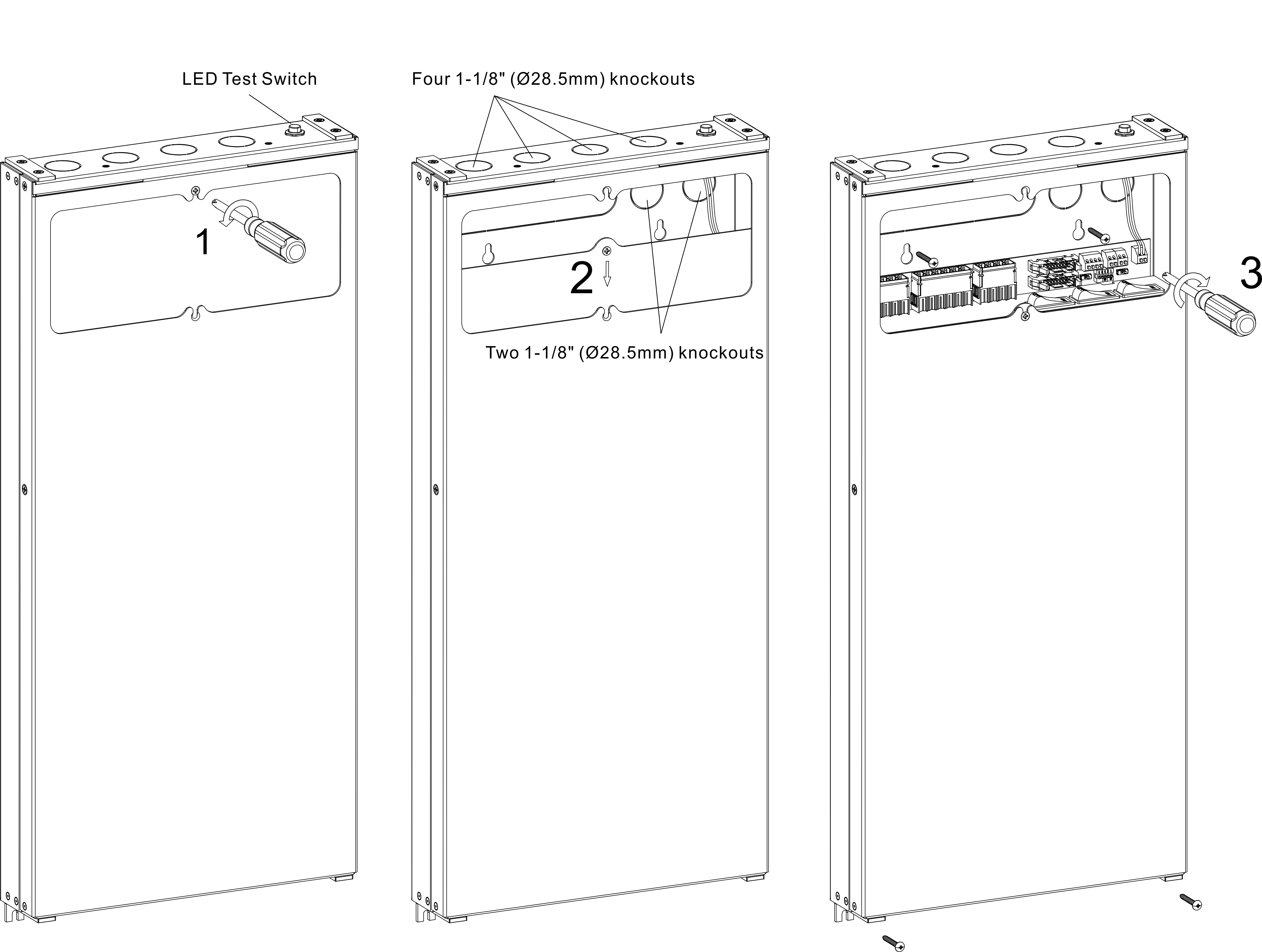 CEILING GRID MOUNTING
PARALLELABLE MOUNTING 1/3
PARALLELABLE MOUNTING 2/3
PARALLELABLE MOUNTING 3/3
SINGLE 184804 FOR 0-10V DIMMABLE EMERGENCY LIGHTING SYSTEM
MAX. DIMMABLE LOAD = 2000W @ 120V; 4000W @ 277V
SINGLE 184804 FOR NON-DIMMABLE EMERGENCY LIGHTING SYSTEM
MAX. LOAD = 400W
PARALLELABLE 184804 FOR 0-10V DIMMABLE EMERGENCY LIGHTING SYSTEM
MAX. DIMMABLE LOAD = 2000W @ 120V; 4000W @ 277V
PARALLELABLE 184804 FOR NON-DIMMABLE EMERGENCY LIGHTING SYSTEM
MAX. LOAD = 800W (2×184804)
=1200W (3×184804)
=1600W (4×184804)
=2000W (5×184804)
SINGLE 184804 FOR 0-10V DIMMABLE EMERGENCY LIGHTING SYSTEM (WITH 1,2 OR 3 CIRCUIT BREAKERS)
MAX. DIMMABLE LOAD = 2000W @ 120V
4000W @ 277V
SINGLE 184804 FOR NON-DIMMABLE EMERGENCY LIGHTING SYSTEM (WITH 1,2 OR 3 CIRCUIT BREAKERS)
MAX. LOAD = 400W
PARALLELABLE 184804 FOR 0-10V DIMMABLE EMERGENCY LIGHTING SYSTEM (WITH 1,2 OR 3 CIRCUIT BREAKERS)
MAX. DIMMABLE LOAD = 2000W @ 120V
4000W @ 277V
PARALLELABLE 184804 FOR NON-DIMMABLE EMERGENCY LIGHTING SYSTEM (WITH 1,2 OR 3 CIRCUIT BREAKERS)
MAX. LOAD = 800W (2×184804)
=1200W (3×184804)
=1600W (4×184804)
=2000W (5×184804)